Engineering Synthesis Design, Inc. to Automate Interferometric Analysis Software Using Embedded Ch
Davis, Calif., May 17, 2007 - SoftIntegration, Inc., the world's leading provider of embeddable scripting technology, today announced that Engineering Synthesis Design, Inc. (ESDI), a developer of metrology instrumentation and software, has selected SoftIntegration Embedded Ch Professional Edition to embed into their flagship product IntelliWave. ESDI's IntelliWave interferometric analysis software is widely considered to be the #1 independent interferometer analysis software on the market. It is used in a variety of industries, including small companies, large corporations such as Kodak and DuPont, as well as major research labs including NASA and Lawrence Livermore National Laboratory. The company's Intellium metrology hardware products are crafted around the IntelliWave interferometric software platform and represent the widest range of wavefront measurement products available from a single company.
"Our mission is to provide our customers with the best interferometric solutions. Scripting allows our customers to create their own solutions and customizations, based on the core functionality of the system," said Raymond Castonguay, ESDI President and CTO. "Embedded Ch is an excellent scripting engine in C/C++. It adds many new scripting features and functions to IntelliWave including advanced automation, data processing, and systems integration with other programs. It extends our customer's ability to conveniently automate IntelliWave for a variety of tasks in different industries."
The criteria for ESDI's selection of a scripting technology included cost, reliability, easy integration and use. "We believe we will significantly reduce the development, maintenance, and training cost when our developers and users use the same language for our interferometric analysis software," said Castonguay.
Below is a sample application of ESDI IntelliWave.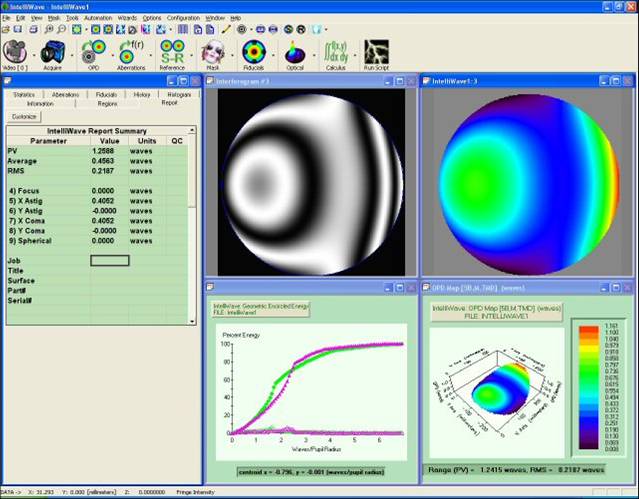 For more information on SoftIntegration and Embedded Ch solutions, please visit http://www.softintegration.com. For more information on Engineering Synthesis Design please visit http://www.engsynthesis.com.
About SoftIntegration, Inc.
SoftIntegration, Inc., is the leader of scripting technology for ubiquitous computing. SoftIntegration provides infrastructure software and services for rapid application development and deployment, scientific numerical computing, embedded scripting, and Web-based software integration. Ch&reg, the company's flagship product, is an embeddable C/C++ interpreter that provides a comprehensive solution for engineers, scientists, Web programmers, software developers, C/C++ beginners and experts, system administrators, realtime programmers, quality analysts, and instructors and professors.
About Engineering Synthesis Design, Inc.
Founded in 1996, ESDI is the maker of the popular IntelliWave and Intellium interferometry products, and a new line of scatterometry instruments. ESDI's software and hardware are currently in use by hundreds of customers worldwide.
Contact:

    SoftIntegration, Inc.
    216 F Street, #68
    Davis, CA 95616
    tel (530) 297-7398 
    fax (530) 297-7392
    info@softintegration.com
    http://www.softintegration.com

Ch and SoftIntegration are registered trademarks of SoftIntegration, Inc. Microsoft and Windows are trademarks of Microsoft Corporation. Solaris is a trademark of Sun Microsystems, Inc. Unix is a trademark of The Open Group. HP-UX is a trademark of Hewlett-Packard Co. Linux is a trademark of Linus Torvalds. Mac is a trademark of Apple Computer, Inc. QNX, Neutrino, and Momentics are registered trademarks of QNX Software Systems Ltd. in certain jurisdictions. IntelliWave and Intellium are trademarks of Engineering Synthesis Design, Inc.