FunctionBay Integrates Embedded Ch into RecurDyn/CoLink for Design of Controllers for Dynamic Systems
DAVIS, California, December 13, 2010 - SoftIntegration, Inc., the world's leading provider of embeddable scripting technology, today announced that FunctionBay, Inc., a global leader in CAE solutions released RecurDyn/CoLink with Embedded Ch for Windows 32 bit and 64 bit. RecurDyn is a complete CAE solution for design and simulation of multi-body dynamics systems.
With Embedded Ch, RecurDyn/CoLink is the only CAE software that can design and simulate controllers of dynamic systems containing both rigid and flexible bodies in C/C++ scripts and blocks.
"We provide the state-of-the-art multi-body dynamics (MBD) technology in the RecurDyn family of software," said Mr. Michael Jang, CEO of FunctionBay, Inc. "However, our technology is not limited to the traditional MBD area. We are expanding to a complete multi-physics solution that includes finite element analysis, control, computational fluid dynamics, and optimization. Our customers include many leading companies. The interface by which our customers communicate with RecurDyn and input their own functions is critical for effective use of our integrated design and simulation environment for multi-physics systems. Embedded Ch is an ideal solution for modeling and interface with the underlying RecurDyn solver. With Embedded Ch, our customers can not only model and interface with the underlying RecurDyn solver using C/C++ scripts, but also build modeling blocks in C/C++ scripts."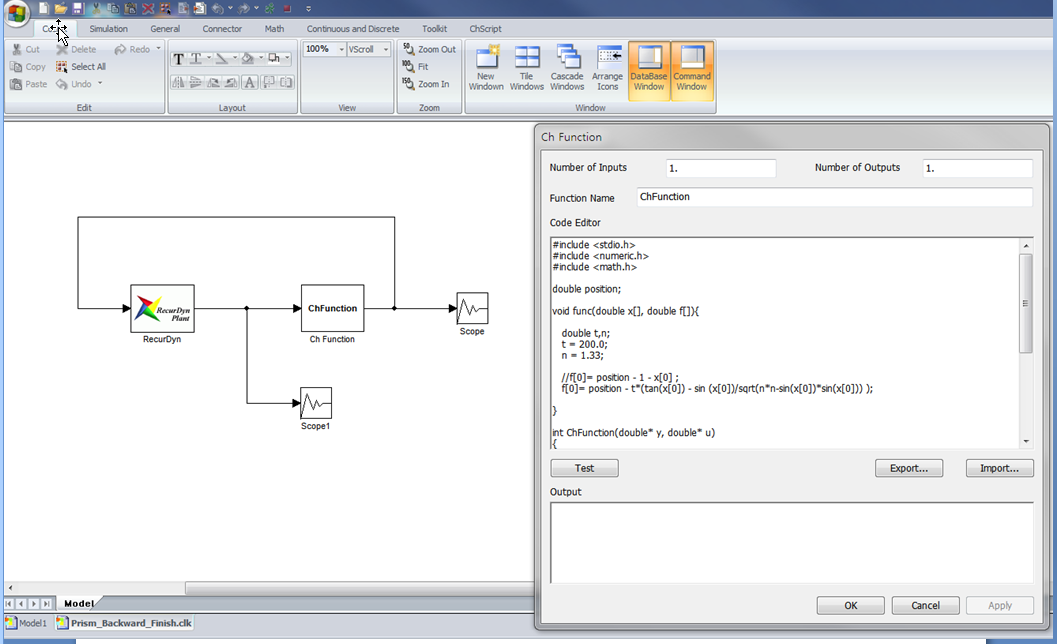 (Click to enlarge)

Ch is an embeddable C/C++ interpreter for cross-platform scripting, numerical computing and embedded scripting. Ch is a superset of C, and supports classes in C++ and C99 features such as complex numbers, variable length arrays, IEEE-754 floating-point arithmetic, and generic mathematical functions. It extends C/C++ with computational arrays for numerical computing and graphical plotting. For example, a linear system equation b = A*x can be written verbatim in Ch.

Embedded Ch provides a C-Compatible scripting engine for simulation and can also be effectively used in testing for Automated Test Equipment(ATE), System-on-a-chip (SoC), Integrated Circuit (IC), Printed Circuit Board (PCB), Micro-Electro-Mechanical Systems(MEMS), Microwave/RF, and LED, etc.

Dr. Dawn Cheng, president of SoftIntegration commented, "SoftIntegration Ch provides an unmatched level of power and flexibility in C/C++ scripting. We are pleased to deliver the most robust and feature-packed scripting technologies for FunctionBay's CAE solutions."

The criteria for FunctionBay's selection of a scripting technology included reliability, easy integration and use, training and technical support cost for their developers and end-users.

"Embedded Ch was easily integrated into our products. We are very satisfied with the performance of Embedded Ch for our large-scale complete CAE solutions. Embedded Ch saves us the cost for developing and maintaining a proprietary scripting language, and reduces the time for developing our products. We will launch the entire RecurDyn family of software integrated with Embedded Ch soon," said Mr. Michael Jang.

For more information on SoftIntegration and Embedded Ch solutions, please visit http://www.softintegration.com. For more information on FunctionBay, please visit http://www.functionbay.co.kr.

About SoftIntegration, Inc.

SoftIntegration, Inc., is the leader of scripting technology for ubiquitous computing. SoftIntegration provides infrastructure software and services for rapid application development and deployment, scientific numerical computing, embedded scripting, and Web-based software integration. Ch&reg, the company's flagship product, is an embeddable C/C++ interpreter that provides a comprehensive solution for engineers, scientists, Web programmers, software developers, C/C++ beginners and experts, system administrators, real-time programmers, quality analysts, and instructors and professors.

About FunctionBay, Inc.

FunctionBay, Inc. is the CAE leading company of mechanical engineering. FunctionBay provides software, technical service, information service, and engineering process development. RecurDyn is the enterprise software of the company for multi-body dynamics, FEM, control, optimization, and CFD. It is integrated discipline software in the sole solver. It has direct sales offices in South Korea, United States, Germany, Japan, China, and agents in the rest of Asia. The company was founded in 1997 and is headquartered in Seongnam, South Korea.

Contact:


    SoftIntegration, Inc.
    216 F Street, #68
    Davis, CA 95616
    tel (530) 297-7398 
    fax (530) 297-7392
    info@softintegration.com
    http://www.softintegration.com

SoftIntegration and Ch are registered trademarks of SoftIntegration, Inc. FunctionBay, RecurDyn, and CoLink are registered trademarks of FunctionBay, Inc. Windows is a registered trademark of Microsoft Corporation.